Terrafibre Mats
Using the fibrous byproduct of the industrial hemp plant, we have created Terrafibre™ Grow Mats. Terrafibre™ Grow Mats are ideal for microgreens, sprouts, wheatgrass and other short rotation crops. Industrial hemp fibres are separated, cleaned and needle punched to produce a 100% biodegradable soilless growing medium.
Fibres are separated through a decortication process without the use of any chemicals, and our needle punching technique creates a light texture for roots to easily grow through.
Hemp fibres have high water retention, keeping seeds wet through germination. All of the hemp used is grown, processed, and manufactured in Canada.
Mat Options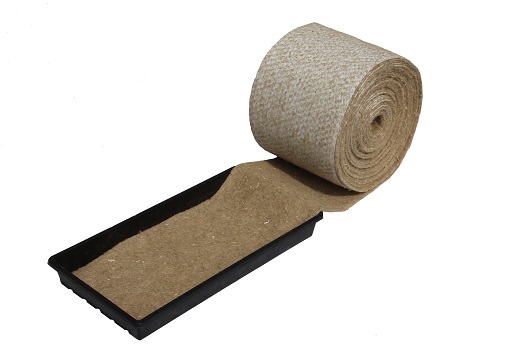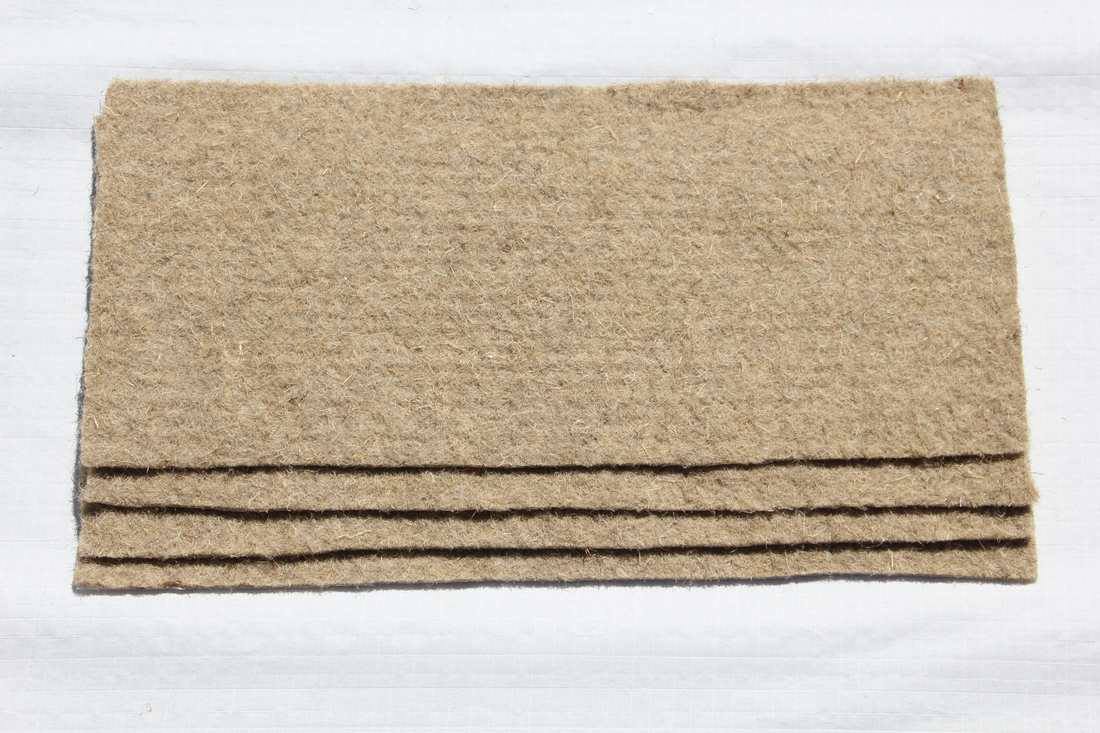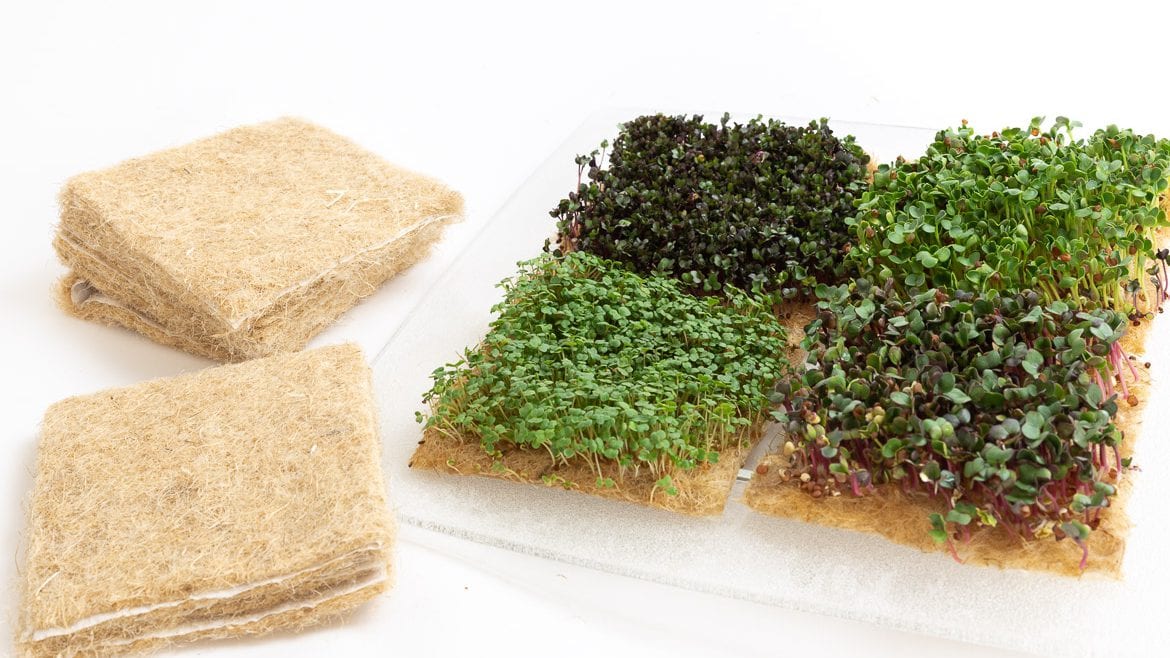 Hemp Fibre Growing Cubes
An all-natural growing media for starting seeds or transplanting cuttings, made from industrial hemp. Terrafibre growing cubes combine two parts of the industrial hemp plant to provide an ideal growing environment. Bast fibres are high in water holding capacity and provide the strength for roots to attach to. Hurd is the larger "woody" fibres that increase air porosity in the cube.

Terrafibre growing cubes are a sustainable alternative to rockwool, peat moss, or coconut. Hemp is primarily farmed for it's seed and the stalk/fibre is traditionally wasted. Through innovative processing and heat sterilisation we are able to upcycle the fibres to create a truly sustainable growing media.

Our growing cubes are completely biodegradable and compostable. Hemp fibre is an incredibly strong fibre so will take 1-2 years to break down completely. Add to garden soil to break up clay soils and increase water absorbtion.
Grower benefits
• Strong fibres to support rooting
• High water holding capacity
• Promote sustainable growing practices
• Fully biodegradable & compostable
• Cleaner to use than soil or coco
• Made from natural, sustainable fibres
• Promotes high germination rate
• Suitable for Hydroponic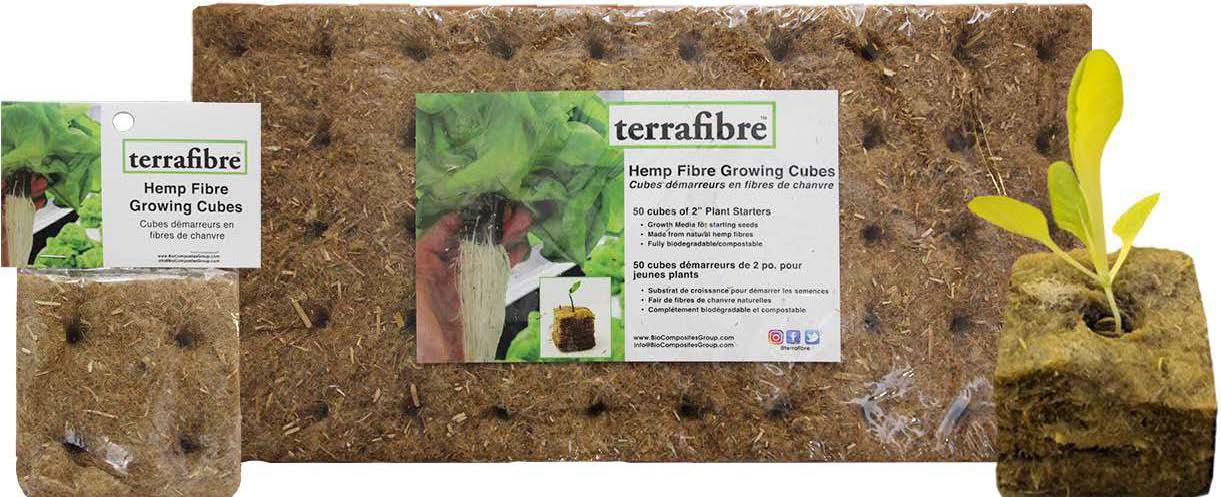 Hemp Fibre Growing Blocks
Transplant your 38mm cubes into this block to give the roots the extra space they need. For shorter rotation crops this may be a large enough media or transplant onto the slab or into our loose fill for the remainder of the growth cycle. Blocks have a 38mm diameter hole on the top and channels along the bottom to increase air flow. Like all Terrafibre products, blocks are fully biodegradable and compostable.

Grower benefits
• 100mm x 100mm block for 38mm cubes to be transplanted into.
• Blocks are 100% biodegradable and compostable.
• Blocks are 100mm x 100mm x 64mm.
• The Blocks are highly absorptive.
• Terrafibre™ Blocks are a sustainable alternative to rockwool, peat moss, or coir.
• Promotes high germination rate.